For Immediate Release - NAB 2002
EdlMax Builds Omf Support for Sony Xpri
Sony has selected EdlMax to create Omf support for the Xpri edit system. Xpri now supports import and export of Omf2 compositions, embedded audio media data, and Ale, . This allows customers to import Omf projects into Xpri for batch digitizing and exporting projects including audio media to Avid Media/Film Composer and DigiDesign Protools.
As lead programmer on the project, Harris interfaced the Xpri to the MaxOmfSdk developer's toolkitt.
Harris - "We have continued refinement of the MaxOmfSdk and extended it to include audio media transfer. Sony's excellent software support has helped make the interface to the Xpri solid and robust. For Xpri it was important to pay special attention to the interchange issues surrounding 24p editing, especially interoperability with Avid Film Composer. I'm happy to report it is working very well. We anticipate further feature development."
Brooks Harris is President of Brooks Harris Film & Tape, Inc., developer of EdlMax, and has created several OEM Omf implementations including for the Avid MCXpress. Mike Buday is President of The Software Grille, maker of Prereader, and has consulted with many OEMs including the development of the Sony BVE Editor. Both have extensive editing experience
Composition and audio media transfer from Sony Xpri to DigiDesign Protools via Omf2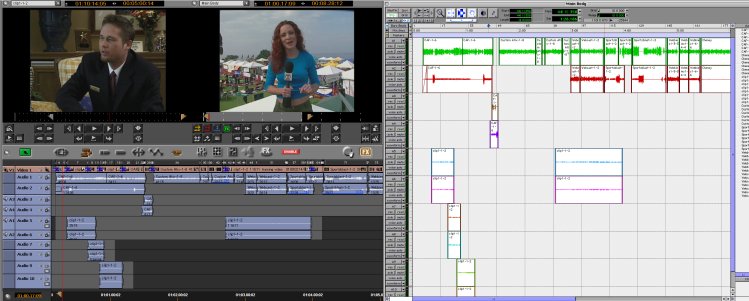 Sony Xpri DigiDesign Protools