Omf Tree View
EdlMax Pro provides detailed information about the contents of an Omf in an Omf Tree View
On opening an Omf file, EdlMax Pro creates a document window for the Omf with the top leaf of the Omf Tree View visible.

Clicking the tree view box opens the next level of the tree.
(Double-clicking a line will open all levels below it.)
In this example we see the Omf is an Omf 2 from a Macintosh (MOTOROLA) and contains an identifier object, Source Clips (in a folder), and a composition.


The identifier shows this example comes from an Avid Media Composer 7.20

Opening the first Source Clips Folder reveals the components of the clip. In this example, 2 audio sources and a video source.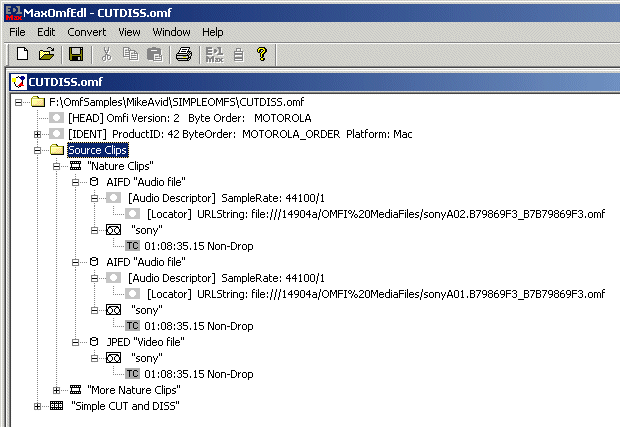 Opening the first level of the composition shows this Omf to contain four tracks – timecode, video, and 2 audio. Each track has two clips with a dissolve between them. The starting timecode of each element is displayed.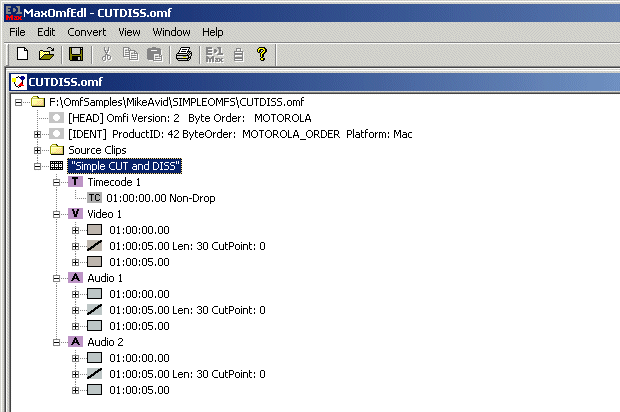 Opening any of the tracks, in this case video, reveals details of each of its clips.